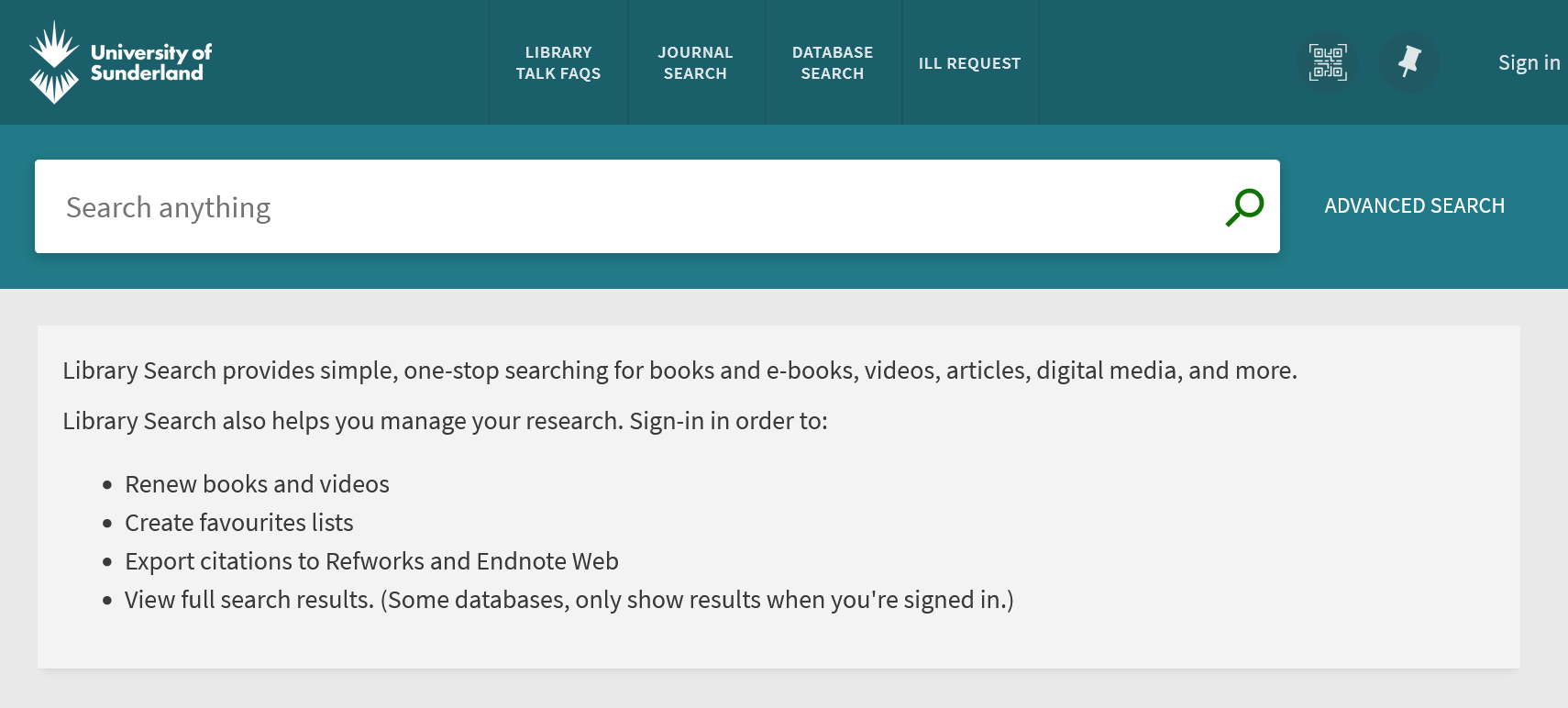 Locate print books and access electronic books through Library Search
Library Search lists all our resources (print or electronic) in all of our libraries: London, Sunderland, and the Internet. It is important that you do not limit yourself to reading list resources only but find your own resources as well to write your assignments and dissertations.
Using Library Search
Sign in to Library Search for best results and to read books online.
Simply type a word or phrase that best describes what you are looking for on the search line. You will have a list of resources coming from different libraries.
You have various options on the left:
You can sort your results by by publication date (e.g. newest or oldest)
You can select London Library in Library Location to limit your results to print books on our shelves
You can select your Resource Type, e.g. books

Click on the title of the book to see availability on the shelves.
Locating print books on the shelves
Every book has a shelf number so that you can easily locate books on our shelves. They start from 001 and go up to 999.
Shelf numbers consist of a string of numbers (every subject category has its own number) followed by letters (the first three letters of the author's surname). For example, 658.4012 LYN comes from:
| | | |
| --- | --- | --- |
| Main subject category | Sub-category | Author's surname |
| Management | Strategic management | Lynch |
| 658 | 4012 | LYN |
You can also request a book to come and collect it from the Library desk. In Library Search, you can see the detailed information about the book most of the time, including the table of contents, to help you decide whether you want to request that book.
Accessing and using e-books
E-books are electronic versions of print books that you can read online. We have a range of essential texts available in electronic format and we constantly acquire more titles.
Once you find an e-book in Library Search, follow the Available Online or View Online links and log in using your University credentials to read the book.
Some facts about e-books:
You can download the majority of our e-books for a period of time set by publishers
Few e-books have publisher restrictions and cannot be downloaded, you can read them online only
If the publisher allows it, you can download and read an e-book as many times as you like
If the publisher allows it, you can read e-books at the same time with other students
You can copy or print a number of pages set by the publisher
You can search the contents of e-books
You can read e-books wherever you are 24/7
Library e-books do not work with kindles because you can borrow them only for a period of time
You need to install an e-reader to read e-books on your mobile device
The item I want is not in Library Search
If there is a specific item that you require and you could not find it in Library Search, you can come to the desk to talk to us or you can complete the book suggestions form.